Can Filing for Bankruptcy Stop a Foreclosure?
Aug. 8, 2022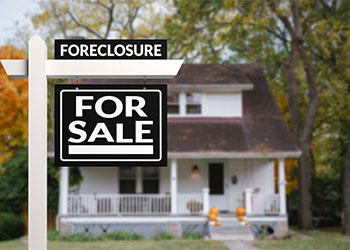 In today's world, we hear the term "foreclosure" more often. People who are unable to make payments on their mortgages risk losing their homes to foreclosure. That is why it is crucial to use all available options to stop a foreclosure and keep your home. One of the options is filing for bankruptcy.
As a bankruptcy attorney at the Law Office of Jason Cline, I have been helping families in Albuquerque and across New Mexico stop foreclosure and deal with their debts for more than two decades. Filing for bankruptcy can stop a foreclosure, and I have first-hand experience with helping individuals and families save their homes. I help clients navigate the bankruptcy process in Los Lunas, Santa Fe, Rio Rancho, and other parts of New Mexico.
Five Common Reasons for Foreclosure
Foreclosure is the legal process by which a lender repossesses and sells a debtor's home due to the latter's failure to pay outstanding debt. A foreclosure can happen to any homeowner who falls behind on mortgage payments. There can be various reasons for foreclosure. Below are the five most common reasons for foreclosure:
Illness or disability. A sudden illness or disability can derail your entire life in an instant. The illness or disability may require medical treatment worth thousands of dollars, which may make it difficult to continue making mortgage payments.

Divorce. Ending a marriage can cause financial burdens for everyone involved. The spouse who stays in the marital home may not be able to afford mortgage payments on their own.

Job loss. Getting fired or quitting your job can make it difficult or impossible to make your monthly mortgage payments, which may eventually lead to a default and result in foreclosure.

Death. It is not uncommon for people to lose their homes to foreclosure after the death of a loved one who was the breadwinner of the family.

Financial irresponsibility. While most foreclosures are the result of a justifiable cause such as divorce, death in the family, job loss, or a sudden illness/disability, some people lose their homes to foreclosure due to financial irresponsibility.
Whatever the reason, a foreclosure means that you are at risk of losing your home and damaging your credit score.
The Foreclosure Process in New Mexico
Under federal law, the lender must wait until the payment is over 120 days overdue before initiating foreclosure proceedings. When the lender decides to initiate the foreclosure process, they will file a lawsuit in court. The homeowner will be served with a summons and a foreclosure complaint. From that point, the homeowner will have 30 days to submit their answer to the lawsuit.
Failure to respond to the lawsuit will lead to a default judgment in favor of the foreclosing party (the lender). You may need the assistance of a skilled foreclosure defense attorney to help you draft an answer to the lawsuit filed by the lender.
How Filing for Bankruptcy Affects Foreclosure
Filing for bankruptcy will stop a foreclosure and give you time to catch up on the overdue mortgage payments. Depending on your situation, filing for bankruptcy could delay foreclosure or stop the foreclosure process altogether. Either way, it can be a viable option if your priority is to save your home.
A bankruptcy filing triggers an automatic stay, which prohibits creditors from trying to collect debts and orders lenders to cease all foreclosure proceedings. If your property is already scheduled for auction sale due to a foreclosure, an automatic stay will postpone the sale.
Filing Chapter 13 Bankruptcy
If you received a foreclosure notice from the bank, you might still have a chance to save your home if you file for Chapter 13 bankruptcy. However, before filing for Chapter 13 bankruptcy to stop a foreclosure, ensure that you meet the qualifications. Chapter 13 bankruptcy can give you enough time to cure the mortgage default in order to keep your home.
Filing for Chapter 13 bankruptcy will trigger an automatic stay, which means all foreclosure activities must stop. In certain circumstances, filing for Chapter 13 bankruptcy can save your home if it has already sold at auction, but you have to act quickly.
Strength When You Need It Most
If the lender is threatening foreclosure due to your failure to make mortgage payments, you may want to seek legal counsel. My law firm – Law Office of Jason Cline – assists homeowners in Albuquerque and throughout the state of New Mexico facing foreclosure. You can schedule a free case evaluation to determine if filing for bankruptcy can stop a foreclosure in your specific situation.